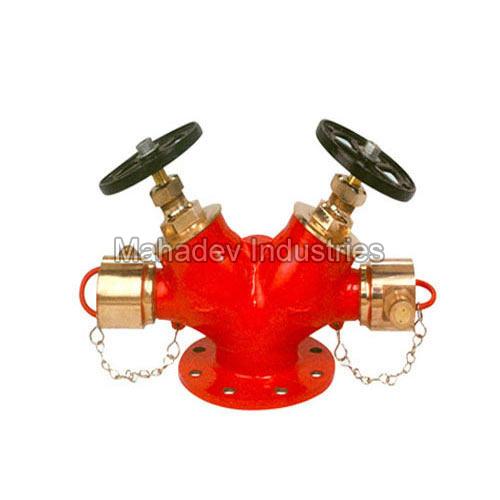 The name 'Landing valves' is not used to describe valves provided on Risers in buildings for firefighters instead this allows quick access to the fireside fighters as these are located typically in the Staircase landings. Hence, the name 'Landing valve' came to be related to this sort of valves in buildings.
The firewater system for industrial or municipal applications is generally called a hydrant system which is why the term that is typically used is called the "Hydrant Valve". It is used to address valves that are fitted on the Hydrant Stand post in such systems. Both the terms actually have the equivalent sort of valve. Though "landing valve" is more related to building applications.

Do We Get Hydrant Valves In Different Sizes And Designs?
Though the essential function of hydrant valves remains equivalent, depending upon the application, code, location, requirements, different designs and sizes are available. Usually, the hydrant inlets are flanged or threaded. The threaded ones are used for low applications and up to 7kg/cm2. You can get different sizes and designs from double headed hydrant valve exporters.

Are Different Hydrant Valves Connections Available?
As mentioned above, hydrant valve inlets are often threaded or flanged. Present BIS standards don't specify threaded connections; however same is being commonly utilized in many regions and countries around the world.
Difference between Double Headed Hydrant Valve and Double Headed Hydrant Post
A double headed hydrant valve consists of a standard inlet and body with two outlets. This may have two bonnets, stems and wheels. Earlier the double headed hydrant valves were used at places where higher flows were required i.e. you'll connect two hoses from the double headed hydrant.
Single-headed hydrant valves are standard hydrant valves with one inlet and a single outlet. A double headed hydrant post is fitted with two separate single hydrant valves, allowing two hoses to be connected from an equivalent hydrant post.
As the double-headed hydrant valves have a larger body, there are several safety concerns and nowadays the double hydrant posts with two different or separated single hydrant valves are used.

What are the different materials used in Hydrant Valves?
Most standards around the world, including BIS, allow the utilization of various materials for construction for hydrant valves, which include Bronze, Aluminium, and chrome steel. The most requirements are mechanical strength, corrosion resistance and suitability to application.

Are Stainless Steel Hydrant Valves Better Than Bronze?
The stainless steel can withstand the higher working pressure than bronze because it has hunger mechanical strength. Chrome steel is non-corrosive, and at an equivalent time, can survive harsh industrial environments. Chrome steel, unlike Bronze, features a low resale value, and this reduces theft of the valve parts, which is common with Bronze valves. Cost of chrome steel and bronze valves are comparable at the present market rates, however, thanks to its durability and long life, the value of chrome steel valves is really much lower over its entire working life.
These were some of the facts about hydrant valves. You can get them from double headed hydrant valves Exporter at an affordable rate.
This entry was posted on February, 21, 2020 at 17 : 10 pm and is filed under Industrial Valve. You can follow any responses to this entry through the RSS 2.0 feed. You can leave a response from your own site.